We have a number of tantalising extras which you can order from us before your stay and we will have them sitting there waiting to be enjoyed at your house upon arrival.
CHEESE BOXES – NOT CURRENTLY AVAILABLE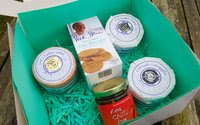 Get prepared for your first 2 or 3 suppers on holiday with our great Cheese Box.
Included are Sue Proudfoot's award-winning Whalesborough cheeses, a pot of chutney and artisan crackers.
The 2 cheeses are mini-truckles.
Cornish Smuggler- "An attractive farmhouse cheese, with wonderful red marbling and deep creamy flavour throughout. Cornish Smuggler makes a stunning addition to any cheeseboard and will please fans who love traditional cheddar-style cheeses but with beautiful red veining." 
Little Miss Muffett – "Sweet continental style washed curd cheese with a supple texture and nutty creamy flavour – unique pink/grey natural mould rind, peculiar to my maturing room! Matured for 4 – 6 weeks veg rennet, pasteurised cows' milk"

All in a white card box – just carry out to the table at the end of the meal for the perfect end to the day!
If you want a large cheese box with an extra 3rd cheese truckle (usually a delicious Trelawney), and an extra box of artisan crackers, let us know.
Priced at £24 per small box and £34 for a large box
VEGETABLE BOXES – NOT CURRENTLY AVAILABLE
Always full of the freshest vegetables and salad, a Raintree Vegetable box is perfect to provide your base of local produce to enjoy on your stay. Packed daily by the wonderful Padstow Farmshop, the contents will change week by week but will be provided and grown at Trethillick Farm near Padstow and by local farmers in Cornwall.
You will find:
staple vegetables:  potatoes, carrots, onions – seasonal vegetables and salad: changing every week but typically may contain courgettes, calabrese/broccoli, beetroot, broad beans in their pods, young salad leaves,or cucumber. The box is sized for 2-4 people for a few days/week or for 6 people for a day or two – providing the vegetables for a couple of meals and accompaniments for other meals during your week. We hope you enjoy what you find, and you find it as delicious as we do!
Priced at £20 per box
BREAKFAST BOXES – NOT CURRENTLY AVAILABLE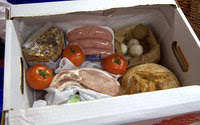 Providing the key ingredients for a great 1st breakfast for your party, the Raintree breakfast box contains delicious produce from Padstow Farmshop.
The box is sized for 6, so get two for 8 or more! The Breakfast Boxes contain the following delicious ingredients: – 12 eggs, either from Jane's own flock, or Carter's free range when Jane's refuse to lay! – 12 rashers of delicious local bacon, normally sourced from Jane's own pigs – 6 Padstow Farm Shop premium sausages – a chunk of Farmshop Hog's Pudding (slice and quickly fry…delicious!) – mushrooms – Delicious Bordelais sourdough loaf from Vicky's in Helston. Please NOTE – milk, butter and jams are NOT included in the standard Box. We think you will probably bring such staples with you or get a delivery from a supermarket!
Priced at £22 per box
WINE CASES
We now offer half-cases of wine delivered direct to your holiday house for your arrival. Supplied by BinTwo, the average bottle price will be £8.50 – £9 per bottle , we can offer :
A half-case of red wine – 3 bottles each of 2 varieties
A half-case of white wine – 3 bottles each of 2 varieties
A half-case of rose wine – 3 bottles each of 2 varieties
A half-case of delicious Prosecco
A half mixed case of Red and White, or Red, White, Rose
The price will be around £55-65 per half-case plus a £5 delivery charge. The prices will be standard shelf/list bottle price in Bin Two – so you just pay £5 delivery.
We will inform you of the exact price and provide an invoice from BinTwo on arrival. Payment to be made to Raintree House Holidays – by card, bank transfer, cheque on departure or from your security deposit
Last orders by Wednesday night for the following week (Saturday-Friday)
Priced at around £55-65 per half-case plus a £5 delivery charge
HOW TO ORDER
For more last minute additions to your booking simply send us an email or call the office. If you know what you want when you first book then you can indicate which extras you would like on your booking form .